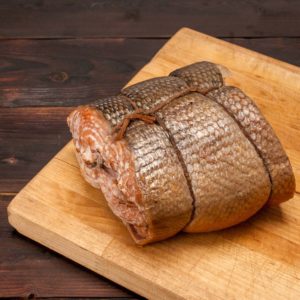 In order to serve our customers comprehensively, we have expanded our range of products to include seasonal articles and other products over and above the classic range of a fresh fish counter.
Smoked fish, such as various types of mackerel, rock salmon, sprat and kippers as well as other delicatessen products are available.
At Christmas and Easter the French made terrines, we have on offer such as Lobster-Whisky or Bretonian Crawfish, are extremely popular with our customers.
Over the past few years, we have also been able to establish and offer a small but exclusive range of beef and lamb products. We source all our meat from carefully selected producers. Our meat products include tenderloin, roast beef and Côte de Boeuf, all of the highest quality, animal friendly and sustainably reared.